MORVERN PENINSULA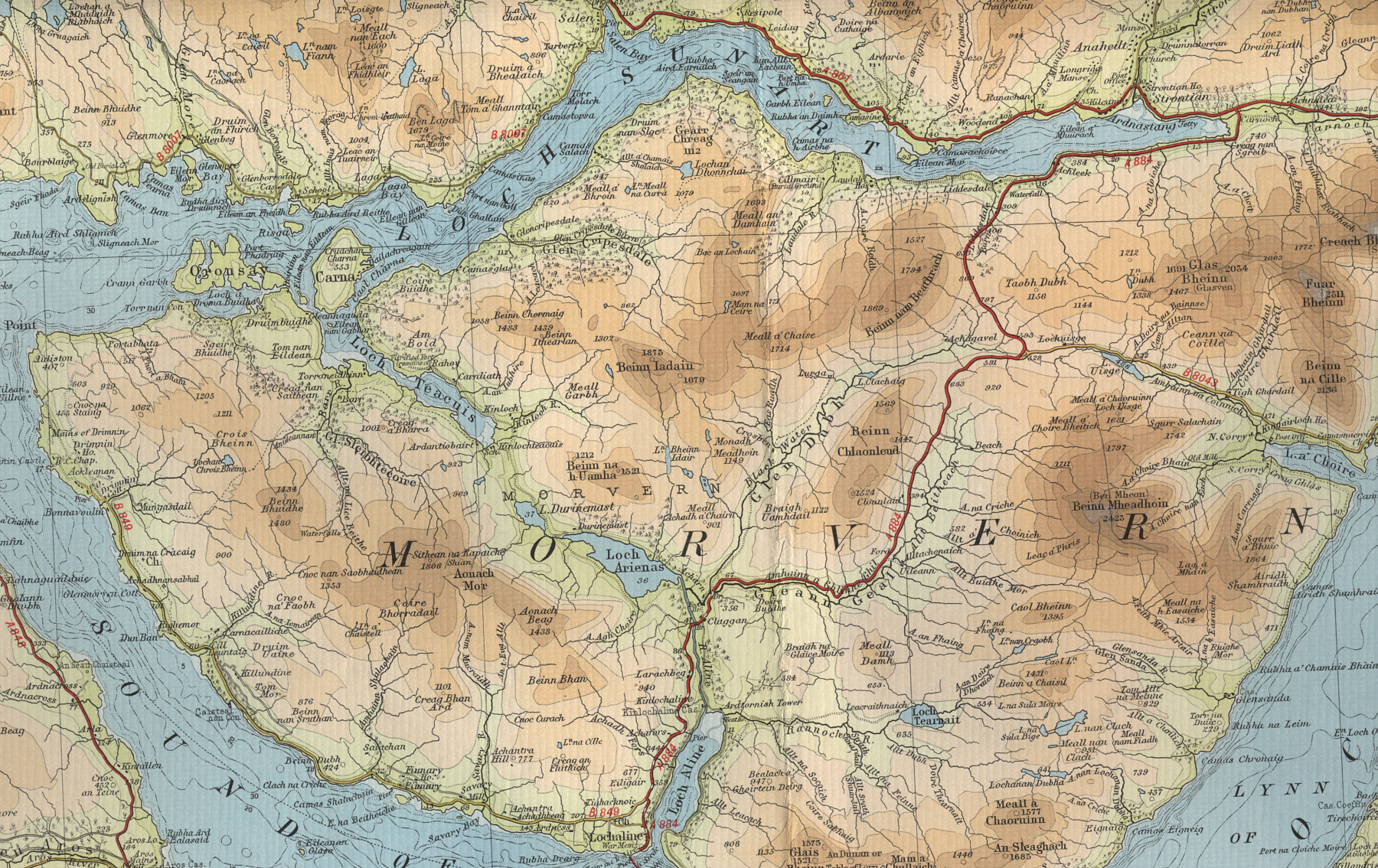 Morvern is a place to enjoy the great outdoors at your own pace.  Whether cycling along forestry or estate tracks, kayaking around the coastline, or walking by shore or on the hill there is a wealth of discoveries to be made.
For an Eagle's Eye view of the north western end of the peninsula, see this BBC video: https://www.facebook.com/BBCOne/videos/1800592839974264/
Morvern Games and Gala Week
Morvern Games and Gala Week has been an annual event in recent years, taking place mid-July with traditional Highland Games, and a week-long programme of activities, including a half-marathon, Regatta, Children's Highland Games event, Ceilidh's, and much, much more. Regrettably, 2020 and 2021 Games were cancelled due to the Coronavirus Pandemic, but details of the next Games and Gala Week will be announced in due course.
Rahoy Hills Nature Reserve / Natural History
The whole of Morvern has a rich bio-diversity – flora and fauna – including many rare Lichens, Fungi, Briophytes.
Explore the Rahoy Hills Nature Reserve (restricted access at certain times of the year)… the Black Glen, the shores of Loch Arienas, Beinn na h-Uamha and Beinn Iaidain; learn more by visiting Scottish Wildlife Trust website – go to the link below:
 https://scottishwildlifetrust.org.uk/docs/027__108__reserve_leaflets__Rahoy_Hills_Wildlife_Reserve__1307102552.pdf
Morvern Community Woodland, Achnaha
A broadleaf woodland, with a circular walk, adjacent to the seashore, it is host to a variety of activities throughout the year.
www.facebook.com/MorvernCommunityWoodlands
Fly Fishing
Local hill lochs offer fly fishing for brown trout, from shore or boat, whilst the R.Aline and White Glen can give great sport when the Salmon and Sea Trout are running (permits available from  www.ardtornish.co.uk/activities/sporting-pursuits/fishing/
Sea Fishing
Fish for mackerel and more in the Sound of Mull, by boat or from shore
Wildlife
Morvern peninsula is home to some of Scotland's rarest wildlife, including Otters, Pinemarten, Wild Cat, Golden Eage and Sea Eagle. Porpoises, and Whales as well as the more common species like Red and Fallow Deer, Buzzards, Hen Harriers and suchlike.
It is not uncommon to see Eagles and Buzzards from the living room of Willow Brae, nor Slow Worm basking in the sunshine.  Links will be coming shortly to full lists of Flora and Fauna.
Check out the Dolphins:    https://www.youtube.com/watch?v=T1H1_fjvRqs
Dark Skies – Stargazing
Morvern Peninsula being so remote from the urban world has some of the darkest skies in the UK – almost as dark as a photography dark-room – which on clear nights gives excellent conditions for start-gazing.   A stellar telescope is available at Willow Brae for visitors to use on the balcony.
Sea Diving
Lochaline is famous as a centre for Divers, with many wrecks being accessible in the Sound of Mull, together with the wealth of sea creatures this attracts.  A number of operators offer the opportunity to enjoy this sport.  See the links below:
www.lochaline-boats.co.uk/diving.html
www.lochalinedivecentre.co.uk/
 Archaeology
Morvern has been inhabited for thousands of years and has a rich archaeological heritage, much of which has been made accessible, with car parking facilities and interpretation boards.  Discover the Wishing Stone, the "cleared" village of Inniemore, Ardtornish Castle, and the Carved Stones of Kiel – and much, much more.  Morvern Heritage Society list these together with information on the area's natural heritage on their website:-
http://www.morvernheritagesociety.co.uk/explmorv.html
Geology
Morvern is a truly amazing peninsula, due in no small part to its geology which has a profound effect in the area's ecology and economy.  A walk into the hills or along the coastline can reveal the richness of its history told in stone – from Basalt to Limestone to the renowned Silica Sand which is mined at Lochaline for the highest quality optical glass.  Whether you want to introduce your youngsters to fossil hunting by a burn at Loch Aline, seek semi-precious stones within black nuggets of rock by Loch Teachis or simply enjoy the variety of rock, Morvern is a delight.
The nearby town of Strontian on the adjacent peninsula of Ardnamurchen gave its name to Strontium which was discovered in the lead mines there in 1790.
Sailing
Morvern boasts an excellent Pontoon facility, Cala Loch Alainn, offering showers, toilets, laundry, waste disposal and information boards as well as fresh water.  http://www.lochalineharbour.co.uk/
Whisky Distilleries
NcN'ean Organic Distillery, Drimnin Estate, Morvern offers tours and lunches.  See www.ncnean.com
Food and Drink
Lochaline Stores is open 8.30 until 6pm Mon-Sat, 11.30-2pm Sundays, and incorporates Morvern Post Office (9-5.30 Mon-Thurs, 9-1 Fri and Sat).  Please remember your mask and use sanitiser.   Limited to 4 shoppers at a time.
Lochaline Hotel and bar generally open to non-residents daily.   The hotel is currently on the market, www.lochalinehotel.co.uk/ or phone 01967 421657
Whitehouse Restaurant, (Michelin recommended) has remained closed during 2020 – 2021, and is currently offered for sale.
Lochaline Catch-a-Snack Bar, The Old Pier.  Open 9-5 Mon-Thurs and Saturdays, and 9-7 on Fridays.   A great place to grab a snack whilst waiting for the Ferry to Fishnish on the Isle of Mull.  Friday night takeaway can be ordered in advance.
The Isles of Mull and Iona 
A 20 minute ferry ride takes you from Lochaline to the Isle of Mull.  Visit Tobermory, with its distillery, or tour the island and see the Sea Eagles, climb Ben Mor, or spend a day on Iona soakng up the peaceful atmosphere. You can also get boat trips to Staffa to see the puffins, and visit Fingal's Cave.  From Fishnish a ten minute drive takes you to Craignure from where you can get a ferryboat to Oban – the "grand metropolis" of the region.
http://www.naturescotland.com/
Fort William – Mallaig on "The Jacobite" steam train
Reckoned to be one of the loveliest train journeys in the country, with the viaduct featured in the "Harry Potter" movies, advance purchase of tickets is essential (though there is a regular diesel service along the same line if all you want is the view).  Fort William is about an hour and a quarter away, using the Corran Ferry crossing at Ardgour.
http://www.westcoastrailways.co.uk/jacobite/dates-times-prices-jacobite-steam-train.cfm
Professional Photoshoot … you and yours in a Scottish setting
Why not employ a local professional photographer for a souvenir photoshoot or video your you and your family enjoying your holiday.  From portrait photographs to action videos, this would be a souvenir with a difference.  See:  http://www.ScottishPhotographyCentre.co.uk/
Visit Scotland … the rest of your visit
To plan the rest of your visit to Scotland, why not look at Visit Scotland's updated website.  For a taste of the Scots Spirit go to the VisitScotland website.
https://www.youtube.com/user/VisitScotland